Sonos trigger signal for B&O.
This small project is able to turn on and off a pair of Beolab Penta and one Beolab 2 subwoofer.
Depending on, if a specific Sonos Connect is play or not.

The setup can control eny B&O speakers connected using Powerlink MKII. And is easy to convert to a 12 volt amplifier trigger signal, if you need to use it with other amplifier types.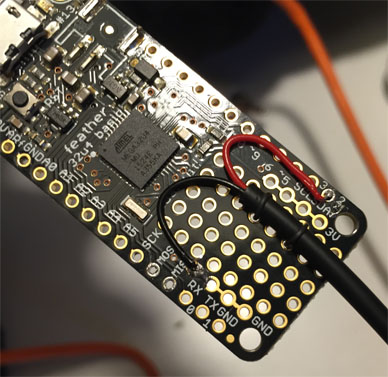 The develpment board used is a Feather 32u4 Basic Proto and a Ethernet FeatherWing from Adafruit.

The wireing is really easy with the B&O speakers. Because they only need between 2,5-5V for the amplifier to turn on.
And the Adafruit Feather 32u4 supply 3V from it´s output.

In this case I connected the output 2 from the controller to PIN 4 on powerlink connector and PIN 7 to the ground on the development board.
Here after, it´s just the two developmentbords that needs to be asambled. And thay can only be put together one way. So this is a no brainer...

Next step is to download the Arduino IDE for programming the micro controller and
follow the adafruit instuction to connect the bord. Copy and paste the code below and correct the IP adress for the Sonos Connect that you need to detect the paying status of.
I have used the ethernet connection on the back of the Sonos Connect to the micro controller becurese this serves as an extension of my network over WIFI.